___________________________________________________________________________

(951) 738-8388 - info@chameleonsonly.com

#KammerflageKreations
___________________________________________________________________________
If you read information on chameleon care and maintenance, you will see varying methods of approach to many subjects such as housing, lighting, feeding, supplementation and breeding. The chameleon care information we provide for our customers comes from our individual experience with the animals we love and care for.
Click here to learn about what works for us!

___________________________________________________________________________
Learn how to create a successful chameleon habitat with Bill Strand!
Whether you are a brand new keeper or have years and years of experience, I encourage ALL to take a listen to this episode of the Chameleon Breeder Podcast. It is my homework to you!

How to listen?!
CLICK HERE for direct link
Or, listen directly on iTunes, the iHeart Radio App, or the Chameleon Breeder Podcast App (available for Apple users).
___________________________________________________________________________


A little something new! From now on, when I add a baby to our inventory, I will include a couple sibling photos in the description. Full and half-sibling pictures will be included, when applicable. Of course, panther chameleons are all very individual and will not always resemble each of their siblings, but I still thought it would be super fun to share! The sibling photos can be found in the description, right underneath the sire and dam's sire photos.
Hope you enjoy!
___________________________________________________________________________

Making chameleon cage cleaning day and morning commutes more entertaining and educational than ever before, The Chameleon Breeder Podcast with Bill Strand! New episodes launch every Friday! Listen on iTunes, the iHeartRadio App, the Chameleon Breeder Podcast App (available for Apple users), or directly on the website at www.chameleonbreeder.com



Ep 84: Carpet Chameleon Roundtable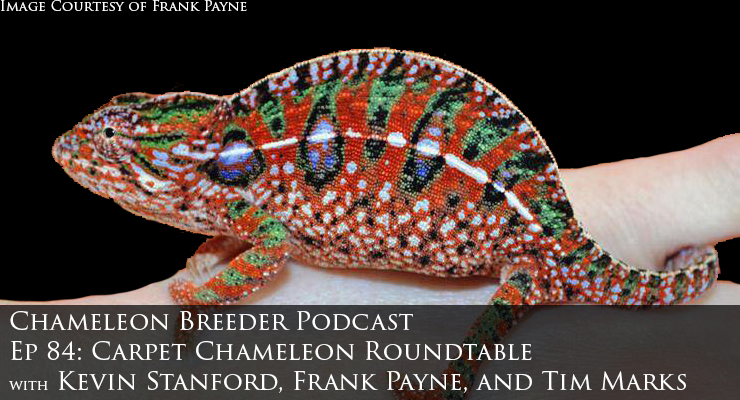 ___________________________________________________________________________
Hello #KammerflageFamily! Connect with us and others on Instagram with hashtags!
Use and search #KammerflageKreations & #KammerflageFamily.
For those of you with Kreations of your own, connect with others that may have a baby from the same sire by adding your photo to our hashtag database! -
For example, being a son of Grimbold, the way that I would tag my chameleon Ponzu is - #KK_GrimboldBaby.
___________________________________________________________________________
Back in 2011, a very special friend and customer started a thread on the Chameleon Forums titled "Calling All Kammer Babies" which is dedicated to chameleons that people have recieved from us over the years. The thread now exceeds 100,000 views, and to date, there are over 450 posts with photos and stories of our customer's Kreations! This thread means the world to us! We can't thank Anne enough for getting it started!
PLEASE, feel extra encouraged to contribute!! We love when members of the Kammerflage Fam share their Kreations with us, and this thread is such a fun way to share!

___________________________________________________________________________
We are so pleased that your search for something special has brought you here! Panther Chameleons are our passion and we are privileged to say, our profession. Whether you are a "veteran" keeper or this will be your very first Panther, we know we have something special for you. We offer exquisite pieces of "Living Art" that are ready to enhance your life and your home. We've spent years developing the very best captive bred Panther Chameleons on the market today.

Why choose Kammerflage Kreations?! CLICK HERE for more information.
And Remember!:
Chameleons are like Lay's Potato Chips . . .
"Bet you can't have just one."
Consider yourself warned!